In this blog post I will be discussing how to grow vast business connections on LinkedIn.
Before we start, let's take a look at the simple breakdown of what you will be learning. I will be guiding you through using LinkedIn groups to expand your network. You will learn what a LinkedIn Group is, why you should use it, how to join, how to identify a good group and what to do after joining it.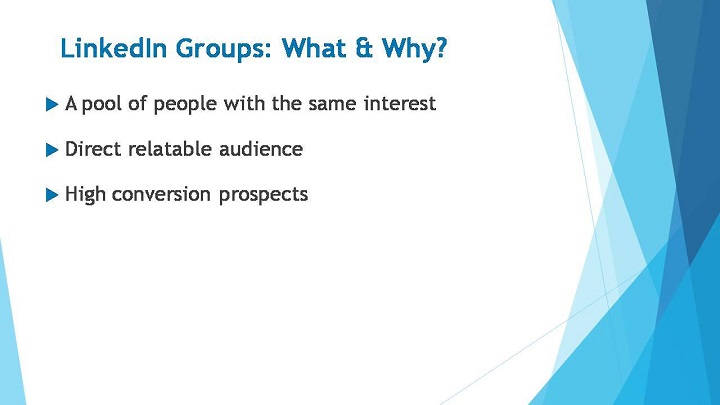 First of all, what is LinkedIn Group?
LinkedIn groups consist of a pool of people with certain things in common. For example, location, expertise industry, special skills, interest and more. By correctly utilizing these groups, you widen your network effectively in a great scale.
Joining relevant and useful LinkedIn groups will be your most essential tool for driving high converting leads. However, many make the common mistake where they join specific groups that are only related to their industry or expertise.
Yes, it is probably the first thing that comes to your mind – to join a group related to what your business is selling. However, this is not where you will find your ideal clients, or rather may I put it in this way – you won't make the cut because the group will be full of your peers and competitors.
So unless you are outstandingly above your peers and competitors, it is best to survey and research closely the groups you're planning to join. Aim for groups that have more demand than supply. That way you will stand a better chance to gain interest from the group members.
So how do you join a LinkedIn group?
To find Groups, go to the Search bar in your homepage, hover over the icon that has 3 lines, select 'Groups' from the drop down box.
Then you can type in your keywords in the search bar to search for your ideal group to engage with. You need to narrow down your search by adding a keyword that's relevant to your target market. If you're networking with business owners, simply add the word "business" or "entrepreneurs" will help targeting your search to a more ideal pool of prospects.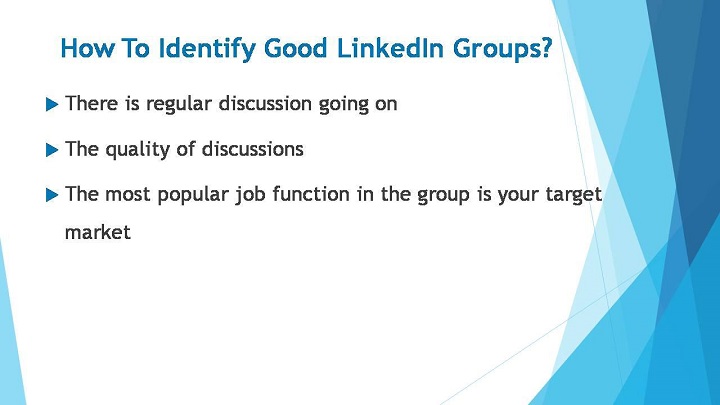 How to identify what is a good LinkedIn Group?
There is regular discussion going on. This goes to show that the group members are active and engaged. There will be potential clients in there because there is demand.
The quality of discussions. Are the discussions in the group spam-like and not systematic or is it full of discussions with useful content? This will help you identify if the group members are potential clients or not, as well as aiding you in researching what is in demand and if you can offer your expertise to engage with them.
The most popular job function in the group is your target market. For example, you want to see "Business" as the main function in the group statistics if you're targeting business owners. This should serve as an indication of a quality group when you search for a group to join.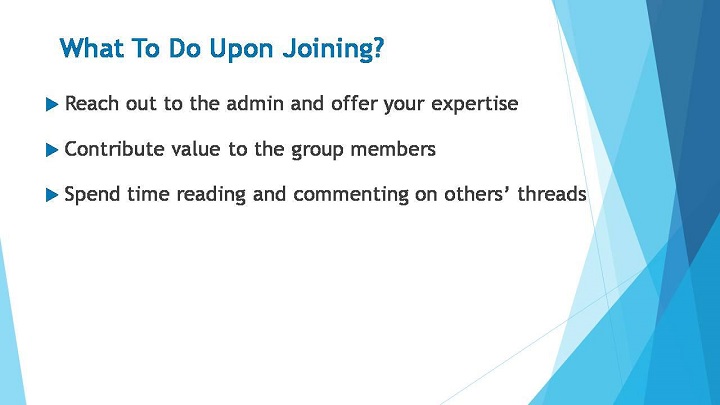 So what should you do to expand your network after you have joined a good LinkedIn group?
Once you join a new group, reach out to the group admin and ask, "What would you like to see more of in your group?"
Here are some questions you can ask the group admin and try to offer to the group. For example, is there anything you can share to the group that can offer value to the group members?
This action is a good approach that will display you as a beneficial addition to the group as you appear to be active in involvement. In a long run, some group admins will likely let you share a good deal of your content in their group.
It is also important to spend at least a week just going through reading and commenting on other people's threads. This will help you build connections with your ideal prospects. To discover potential clients you should also be making connection request and sending them InMail etc.
That is all for blog post. The learnings of this blog post should help you gain larger and better business connections. You can refer to the previous blog post on ways to engage with targeted clients and apply your efforts to reach out for more connections through joining group
Watch Video

In the next blog post I will be discussing How To Optimize LinkedIn SEO To Maximize Traffic
Until next time.
Moni Arora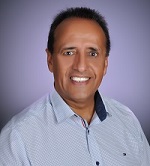 Moni Arora's Blog
Facebook
Linkedin
Twitter
Email Me
P.S. If you found value in this blog post please LIKE, COMMENT and SHARE with someone who can benefit from this.
P.P.S. If you are still looking for a profitable home business and would like to be mentored by me Click Work With Moni