(Please enjoy this guest blog post from ANDREW T DRAUGHON)
Ever wonder if blogging is really worth your time?
Here's something to chew on…
Marketing thought leader Seth Godin once said, "Content marketing is the only marketing left."
Godin's been called the "godfather of modern marketing," and for good reason too; he made the above statement in 2008—LONG before a recent poll, which found over 60% of Chief Marketing Officers agree that creating engaging content is essential to thriving intoday's hyper-informed economy.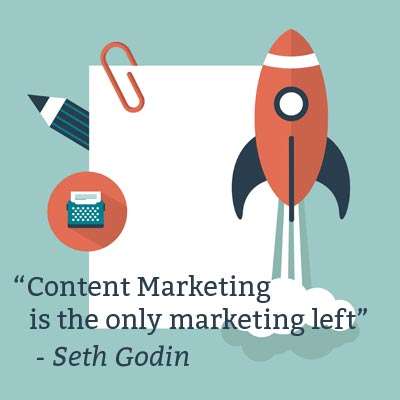 Ironically…most businesses (both large and small) are absolutely ROTTEN at content marketing.
Especially big, corporate ones.
And that's fan-freaking-tastic news for you!
Here's the long and short of it…
It's quicker and easier than EVER in the entire HISTORY of humanity to get MASSIVE exposure for yourself and your business.
I mean, honestly. You don't even have to leave your house to near-instantly put your message in front of thousands of people.
You've just got to make sure it's the RIGHT message.
With that said, let's talk about what NOT to do first…
3 Reasons Most Marketers SUCK at Content Marketing:
They don't invest in creating quality content
They don't execute consistently
They don't actively promote their content
Let's look at those 3 reasons in a little more detail. And then we'll talk about how to overcome these obstacles to make your blog (which, FYI, is your content marketing strategy) work FOR you…instead of against you!
Fair warning:
I'm putting away the kid gloves.
It's time for some no B.S., straight talk…

1. Lack of Quality Content
So what is quality content, exactly?
Quality content is, first and foremost, HELPFUL to your readers.
Quality content isn't about you. Despite blogging's origin as an "online journal," quality content has nothing in common with your diary. Your readers only concerns are for themselves and solving their problems.
Quality content isn't a "pitch fest." If your content is nothing more than an overt sales pitch, delivering no value on its own, the traffic you work so hard to capture will just leave in droves. No one wants to read a glorified commercial.
Right?
Quality content is defined by these factors:
Knowing WHO your audience is,
Knowing WHAT they want, and
Knowing HOW to help them get it.
Hate to break it to you, but there's no shortcut to creating quality content.
It takes work.
So your first investment is in time spent thoroughly identifying and researching your ideal reader and then in creating the kind of content they're actually looking for.
And your second investment of time is in mastering the ability to talk to your people, either through the written word or a well-prepared video.
2. Lack of Consistency
The Web is full of abandoned blogs like the world is full of failed dieters.
Think about it…
Just about everybody wants to lose a few pounds, so they jump on the bandwagon of the latest super-diet fad…they're all gung-ho, they buy all the stuff, clean the junk food out of the fridge, and diet like crazy…
…for about 3 days.
In the same way, people get jazzed about starting a business, they hear "your blog is your business's #1 asset," and they go at it full-speed…for about two weeks, tops.
The Internet is lined with the cobwebs and crickets of those "failed" entrepreneurs who couldn't commit for the long haul.
They couldn't (or, more accurately, wouldn't) execute.
Whether it's once a day, 3 times a week, or on the same day every month…
Your content marketing strategy depends on consistency.
It's the only way to build trust, to build relationships, and to build credibility.

3. Lack of Promotion
Wanna know what happens when you hit "publish" on your latest blog post?
Nothing.
Zip…
Nada…
Bupkis…
If there's nobody there to read it.
Failed entrepreneurs tend to "post and pray."
They don't use the promotion tools available to go out and actually GET readers.
It's crucial to invest in an advertising budget for buying traffic and generating visitors to your content. Relying on free traffic is one of the 5 WORST traffic mistakes you can make.
You also must invest time into making sure that every post you write contains links to your internal content so it can lure your readers deeper into your site. (Like I just did.)
It's also vitally important cultivate a social media presence and syndicate your content through your network.
So how do you make content marketing work FOR you?
At the risk of being "Captain Obvious" here, you simply have to…
Create quality content
Execute consistently
Optimize and promote every post you write!
Stick with me for the specifics…

1. Create Quality Content
To create top quality content you have to know exactly WHO you serve, WHAT they want, and HOW to help them get it.
That means research, analysis, synthesis, and a desire to create value.
It requires an investment in time to find out who they are, where they hang out, where they're currently looking for answers, what words and phrases they use, how they think about their problems, who they currently regard as authorities, and what motivates them.
Once you've figured all that out, it's time to create content to catch their eye, perk their ears, and jolt them into taking action.
You've got to be willing to give it away…even your best stuff!
You've got to give away impactful, solid information that helps your readers solve a problem or alleviate their pain.
Giving away your best stuff is what keeps people coming back for more.
That's what draws people to you, creates your following, and establishes your leadership and authority.

2. Deliver Your Content Consistently
Once you decide to implement content marketing, it's time to act like a "grownup" and publish consistently and predictably…
NO MATTER WHAT.
That means creating an "editorial calendar" for yourself and planning your posts (and promotion) around it. And thankfully, these days you you can schedule everything from blog posts to tweets to Facebook updates in advance, so there really is NO EXCUSE for not executing your plan.
If you plan to publish every Thursday at 9:00am…
JUST … DO IT!
In time, your readers will come to expect it, and if you're all about building trust, you can't let them down.
Whether it's daily, weekly, or somewhere in between, one way to hold yourself accountable is to announce to your readers right up front what your publishing schedule will be, so they'll hold your feet to the fire.
Believe it or not, creating an editorial calendar can also help you relieve the "I don't know what to write about" syndrome that plagues so many new bloggers.
For example, make Monday your day for an interview post; Wednesday your day for a top ten list; Friday your "ask me anything" day.
Get creative, tell your readers what to expect, and then…
DO IT!
3. Promote Everything You Write!
Remember that old "if a tree falls in the forest and there's nobody around to hear it, does it make a sound" thinking exercise?
Well…
Your quality content, sittin' there all by its lonesome, makes no difference to anybody if it's not seen or read.
And if you don't INVEST in promoting each and every piece of content, you're NOT going to get the exposure your business needs.
Period.
Now, this goes without saying, but whenever you write an article or post a video, alert your Facebook, Twitter, and other social media communities. Invite your readers to like, tweet, and share with wild enthusiasm.
That's just the beginning, though.
If you're SERIOUS about your business and getting exposure, you need to take CONTROL of your traffic from day one.
And you do that through allocating an ironclad advertising budget for paid traffic strategies.
You MUST have a budget.
The exact number depends on you.
It could be $1/day, $5/day, $10/day, or $15/day.
And yes, if you're reading these words right now, you CAN afford an advertising budget.
Don't even get me started on how many people I've spoken to walking around with a brand new smartphone trying to convince me they can't commit $10/week on their ad budget.
Decide right now to get SERIOUS about your ad budget.
Pick a number that makes you uncomfortable and commit to that number.
My best advice?
Spend your ad budget religiously, like your business depends on it.
Because it does.
What's next?
Your mission (should you choose to accept it) is simply this:
Get busy.
Get on with it.
Commit to creating quality content and promoting it to your prospects relentlessly and consistently!
Let's face it…
You already know that blogging is hands down the most effective way to connect with your prospects and demonstrate your experience and expertise.
So make it happen!
And if you want to discover how to leverage your blog to further cement that YOU are the credible expert in your prospects' minds, and also make them practically convince themselves that you, and only YOU, are the leader they want to JOIN and follow…
…I strongly recommend that you sign up for this free 10-day crash course in online recruiting.
Ferny Ceballos, our Chief Marketing Officer here at Elite Marketing Pro, will reveal everything you need to know about finding hot prospects who already want and need what you have to offer…and will even pay you to show them your business!
'Til next time,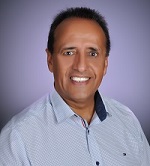 Moni Arora's Blog
Facebook
Linkedin
Twitter
Email Me
P.S.  If you are still looking for a profitable home business and would like to be mentored by me Click Work With Moni
P.P.S. If you found value if this message please like, comment and share.