In this last blog post on YouTube advertising you will learn how to use YouTube Ads for high conversions.
Before we start, let's take a look at the breakdown of what you will be learning. In this blog post I will explain what is YouTube Ads, how does it increase conversions, and I will teach you how to use it step by step.
So what is YouTube Ads?
YouTube is a social media platform that has become a highly effective venue for reaching massive audiences through online advertising.
How so?
It has over a 1 billion users and people are watching 50% more video on the platform year over year.
For online marketers and business owners, this is a huge opportunity to get in front of a target audience and expand the business branding to convert to sales.
YouTube Ads allow you run paid ads on someone else's videos, as well as getting paid to let others run their ads on your videos.
How does it increase conversions?
YouTube Ads can be used to increase your brand and product visibility and this in turn translates into potential sales and revenue.
Let's say that there is a highly anticipated video or a viral video that people are bound to watch and because you are running paid ads, your advert appears before the video and viewers who choose to watch it get to know more about your product, brand or offering and interested consumers will then click to know more and purchase your product or service.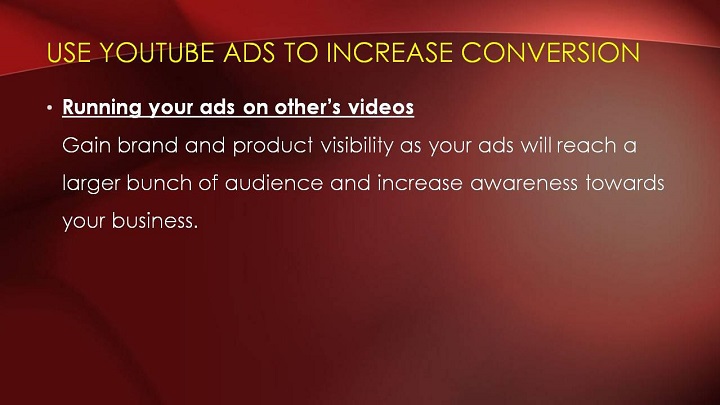 YouTube Ads enable two choices: to run your ads on other's videos or to let others run their ads on your videos.
By running your ads on other's videos, you will be gaining brand and product visibility as your ads will reach a larger bunch of audience and increase awareness towards your business.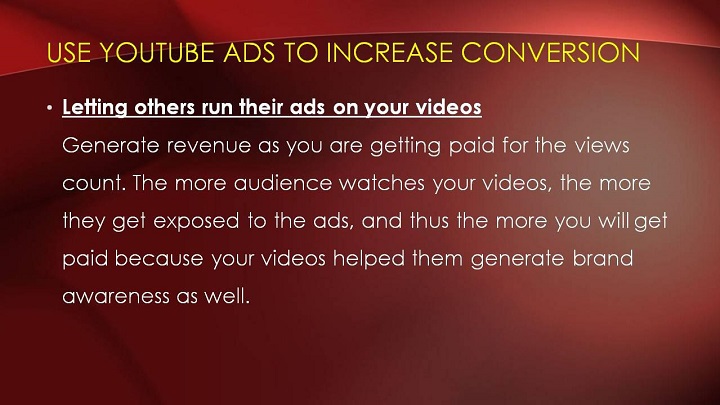 On the other hand, letting others run their ads on your videos allow you to generate revenue as you are getting paid for the view count. The more audience that watches your videos, the more they get exposed to the ads, and thus the more you will get paid because your videos has helped to generate brand awareness.
Both ways work to increase your conversion rates as monetization with YouTube Ads generally involves maximum audience engagement. By increasing your brand awareness and reaching out to large targeted audience, you are boosting your percentage of conversions as well.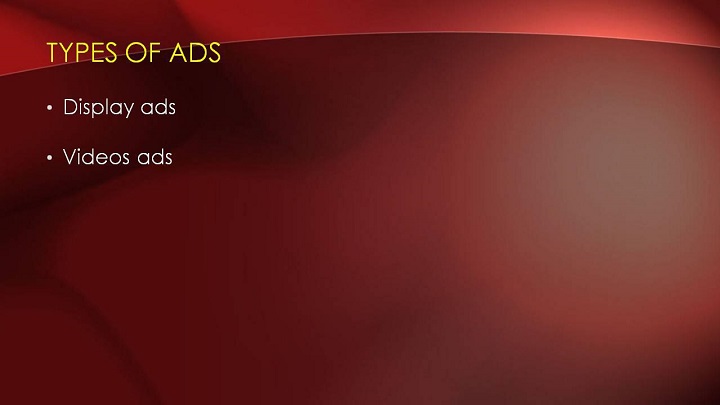 Before we move on to learn how to use YouTube Ads. Let's take a look at the types of ads available for your preference or selection that best suit your business.
There's two types of ads on YouTube: the display ads and videos ads.
Display Ads on YouTube
YouTube display ads allow you to place your ads in videos whereby it will appear alongside related YouTube videos, or as pop-ups within YouTube videos.
Below are the types of Display Ads that YouTube offers.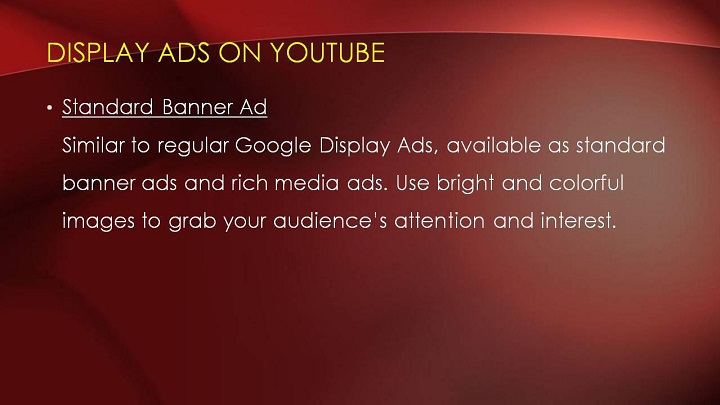 Standard Banner Ad is similar to Google Display Ads whereby it is available as standard banner ads and rich media ads. Use bright and colorful images to grab your audience's attention and interest.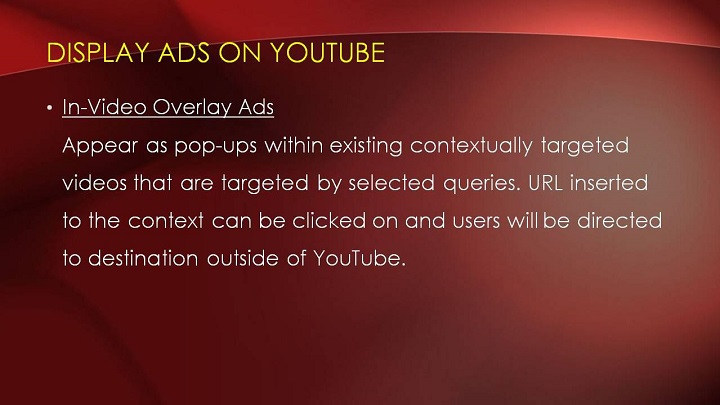 In-Video Overlay Ads are ads that appear as pop-ups within existing contextually targeted videos that are targeted by selected queries. URL inserted to the context can be clicked on and users will be directed to destination outside of YouTube.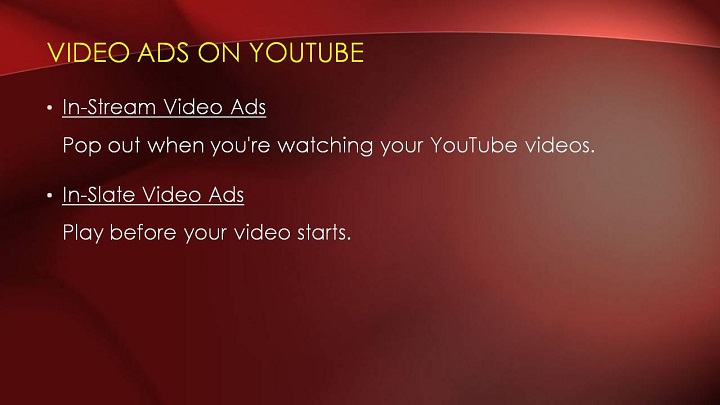 As for Video Ads on YouTube, here are the types of ads offered.
In-Stream Video Ads are ads that pop out when you're watching your YouTube videos.
In-Slate Video Ads are ads that play before your video starts.
In-Search Video Ads are ads that appear above or to the right of regular YouTube search results.
In-display Video Ads are ads that appear alongside other YouTube videos.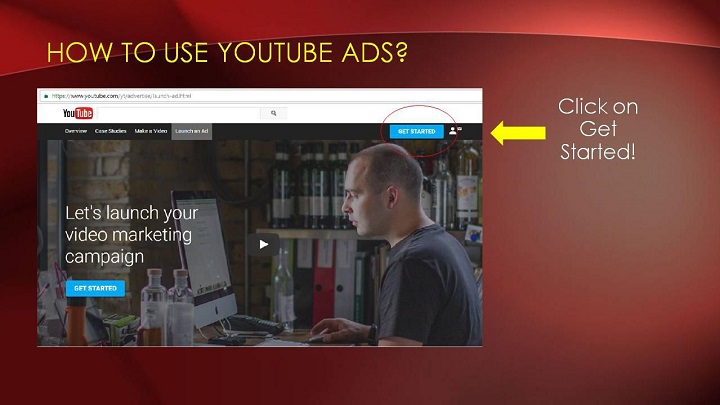 Now, let me guide you through the steps to create an ad that will be shown on other users' content.
Go to YouTube's advertising pages and click Get Started. Now you're ready to launch your ad campaign.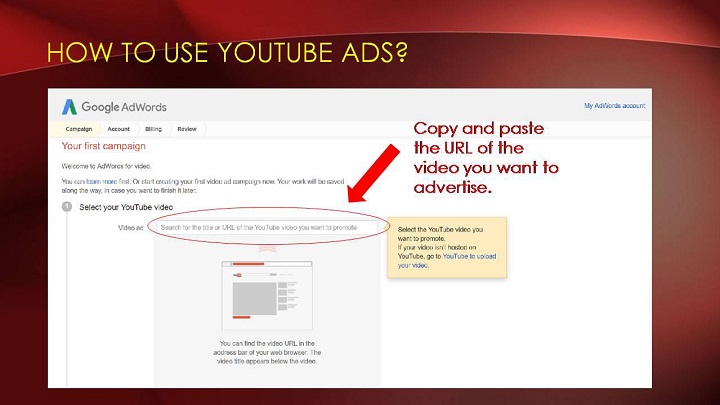 The first step is to select which video you want to promote. Just find the video that you want to advertise, then copy and paste the video URL in this box.
After you have selected your video, there will be a preview like this so you can see how it will appear to people who are watching it on YouTube after browsing the Internet or finding it via YouTube search.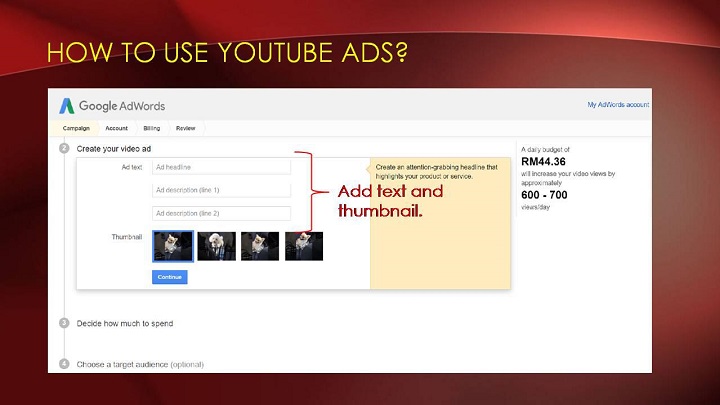 Next, you need to enter the information for your ad text. Ad text includes the headline and two lines of description of how you would like to tell people what is your ad about.
The ad text and descriptions are extremely important when you want to grab a customer's attention. Be short and straight to the point. You would want to key in punch lines that will increase click in.
Then choose a thumbnail you would like to display to your audience.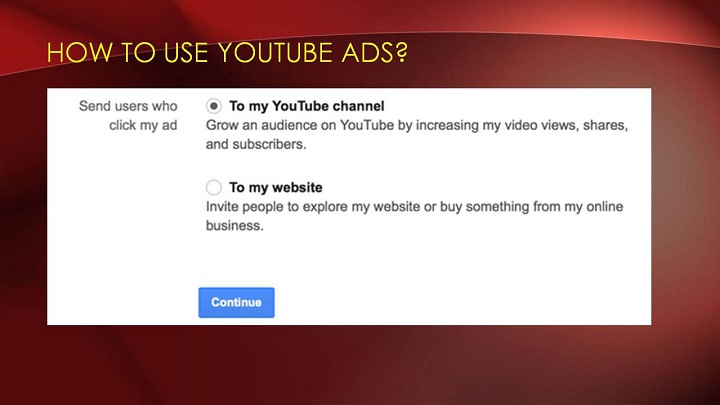 Then specify where you want to send your traffic when users click on the video or ad. You can send them to your website or YouTube channel.
You can decide if you want users who click on your ad to be sent to your YouTube channel or to your website.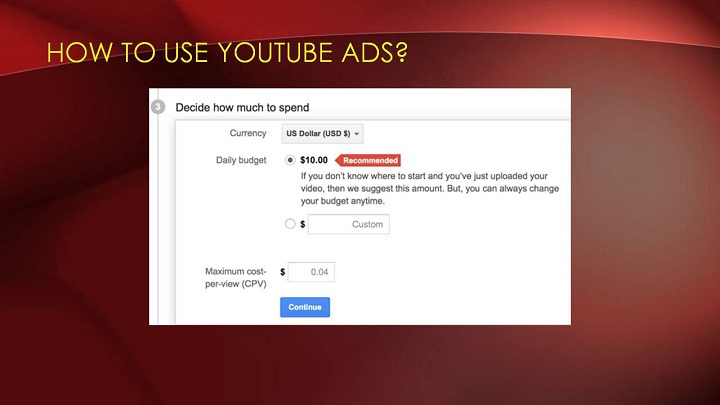 Next, you need to decide how much to spend and set your budget.
You can opt for daily budget and set a specific amount. Then choose a maximum CPV so you're not spending more (including more per view) than you want to.
Next, you can choose a target audience if you want your ad to be displayed to specific targeted audiences. As you can see, the targeting criteria includes age, gender, web activity, and user interests.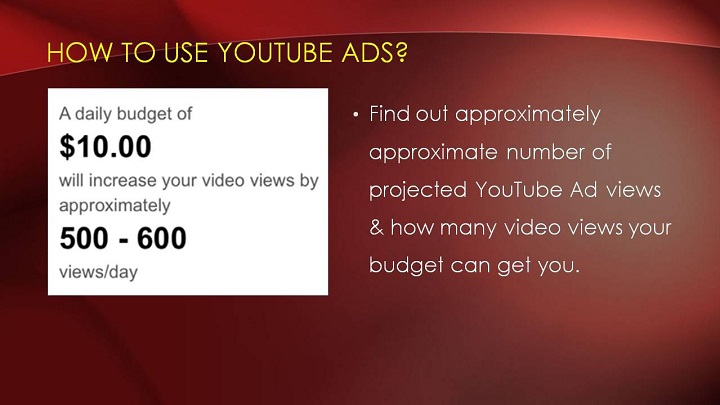 As you create your YouTube Ad, you can find a small tab on the right side of your page. This is where you can see approximately how many video views that the budget you set will bring to you.
And finally! Now sign into your Google account and enter your billing information to pay for the ads. Then review your ads and submit them for approval.
And you're done! You have now created your own YouTube Ads.
This is the last blog post in the YouTube training modules. Thank you for following up with the modules and I wish you all the best in bringing your business to a higher level with YouTube!
Watch Video

Good Luck!
Until next time.
Moni Arora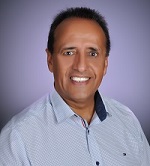 Moni Arora's Blog
Facebook
Linkedin
Twitter
Email Me
P.S. If you found value in this blog post please LIKE, COMMENT and SHARE with someone who can benefit from this.
P.P.S. If you are still looking for a profitable home business and would like to be mentored by me Click Work With Moni