Over the years, blogging has evolved into something more than just a page for writers to share their thoughts, knowledge and stories. It has become a profitable business that can solve your financial problems. Blogging for profit has the potential to replace your job. It is a huge industry involved with millions of dollars.
In fact, many people can testify that blogging has made them millionaires. You can become one of them in the near future for as long as you know what you are doing. You can start by first understanding how blogging for profit works.
What is blog traffic?
Blog traffic is directly related to the number of visits your blog is receiving every day. It dictates the amount you will be earning and the success of your blog. There are billions of people who use the internet. Once you get a hundred thousand of them to visit your site regularly, your blog will have the potential to profit big from them. There are many ways to earn money from blogging and all of them require your blog to have decent blog traffics.
How to get people visit your blog?
People visit blogs because of three reasons:
1) to be entertained;
2) to update themselves with new trends;
3) to learn new things.
Create your blog with these three on your mind. Identify who your readers are and base your topics on what interests them the most. Entertain them with your unique writing personality and style.
Make sure that paragraph flow is excellent and that there are no lapses in grammar. Also, don't expect to receive huge traffic from a single entry alone.
Blogging for profit requires you to constantly update your blog with new topics to keep your viewers returning for more. Familiarize yourself with search engine optimization techniques to increase your blog ranking.
Remember that there are thousands of bloggers out there who are also blogging for profit. You won't get noticed easily if you don't use the proper keywords and have the proper content.
How do blogs earn profit?
Pay per click ads – When your blog gets enough traffic, you will be given the chance to post advertisement banners and links in your blog. Every time your reader clicks on them, you will get paid around .15 to .50 cents. It may seem a small amount to you but once you multiply this amount to the thousands of clicks from your readers, you will see the big earning potential out of it.
Affiliate marketing – You can get a service or product to partner up with your blog as a way of blogging for profit. Create an entry related to that product or service and place a link to it somewhere in your blog. When a person clicks that link and buy that product, you can earn 15% – 75% commission.
Blogging For Profit
Blogging for profit is not a quick money making scheme. You have to accept the fact that you will be sacrificing your time and effort in creating your blog. The first few months are always the hardest. Don't give up right away and waste your effort.
If you are really having a hard time blogging for profit, review your blog entries and identify the things you need to improve.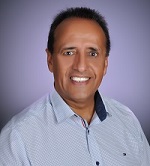 Moni Arora's Blog
Facebook
Linkedin
Twitter
Email Me
P.S. Discover How You Can Quickly And Almost Effortlessly Create Traffic Exploding And Money Making Blog Posts… For FREE!