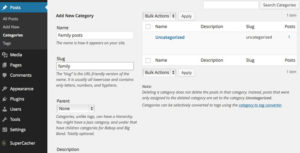 How To Create And Manage Blog Post Categories
Every post in your WordPress blog or site is filed under one or more Categories. This helps in navigation and allows posts to be grouped with other similar content.
Each Category can be assigned as a Category Parent so that you can set up a hierarchy within the Category structure. When creating Categories recognize that each Category Name must be unique.
Links to your Categories are, by default, shown in two different places on your blog. First, WordPress lists these Categories as links in your sidebar. Second, WordPress shows all the Categories to which a given post belongs under that post. When someone viewing your blog clicks on one of these Category links, an archive page with all the posts belonging to that Category, will be displayed to them.
Watch the video below and learn How To Create And Manage Blog Post Categories or delete existing categories and manage categories hierarchically.
WordPress Tutorial For Beginners
How To Create & Manage Blog Post Categories