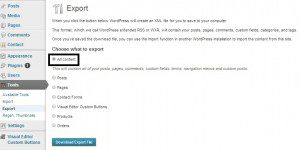 How To Backup Your Blog
Blog backups are critical because problems inevitably occur and you need to be in a position to take immediate action should disaster strike.
Spending just a few minutes to make an easy, convenient backup of your database will put your mind at ease and allow you to spend even more time being creative and productive with your blog.
WordPress database contains every post, every comment and every link you have on your blog. It is possible for your database to get erased or corrupted and if this happens then you stand to lose everything you have written. There are numerous reasons why this could happen and not all are things are in your control. Having a proper backup of your WordPress database and files, means you can quickly restore things back to normal.
Don't think this will never happen. From my own experience I lost 2 years worth of work when the database on one of my site became corrupt and I lost everything. Fortunately, I still had all the posts however it was hard work having to add them all, (one by one!) to the blog!
Please backup your blog at least once a week. If you are posting everyday then I suggest daily backups. In the video we talk about wp-db manager however there are now so many good plugins for making backups I suggest under "add new plugin" search for blog backup and I am sure you will find something you like.
WordPress Tutorial For Beginners