In this blog post we will cover how to create great Pins for your Pinterest board.
Throughout this post you will learn four main things, which are:
How to create informative Pins

How to create compelling

Pins

How to help people to take action on their interest

Top apps to use to design and beautify your images
Every "Pin" needs to have a description that sets a context. The best descriptions are the ones that are informative and add value to your readers.
While only about 75-100 characters of your description will appear in grid view, you can include up to 500 characters.
Next is to offer instructions and information such as how-tos. Step-by-step instruction and tutorials help break down complicated projects and makes it easier for your readers to read and share the pin.
This strategy works very well, regardless if you are a product or service based business. If you are a restaurant owner, share simple recipes on Pinterest that would lead readers back to the main website where they can book a table at your restaurant to try new recipes.
If you are a service or experience based business like a hotel, provide informative tips on how to keep linen clean and fresh or everyday short cuts to help manage laundry and housekeeping. Be creative.
A simple step to deliver persuasive information would be adding a clear text overlay. Text overlays can give Pinners a snapshot of what the pin is about, especially when a Pin's purpose isn't obvious from just the image.
You need to make sure that you make the text part of the design large enough to read easily on mobile or in a grid view. Also, you definitely need to minimize the amount of text in an image.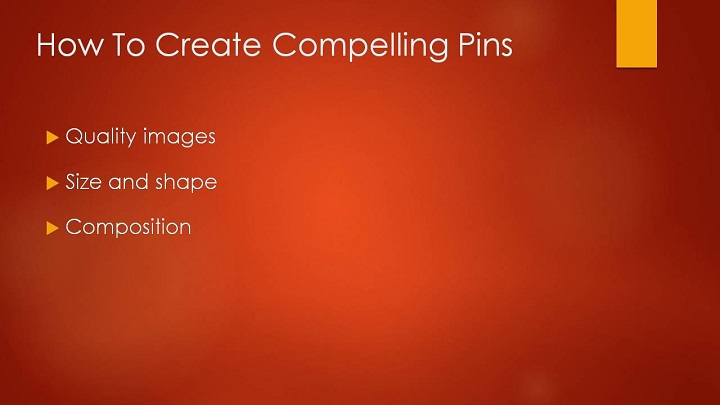 Next is to create compelling Pins. First, use high resolution, professional-quality photographs and illustrations. Do not use images that are poorly lit, blur, distorted or appear amateurish. Also, you need to take note on the colour contrast and lighting. Make sure your Pins are able to express the features of your product correctly.
Size and shape do matter. Pins look best when they are vertically oriented. I recommend an image aspect ratio of 2:3 to 1:3:5 and a minimum width of 600px.
Pins get cut off in feeds if the ratio is greater than 1:3:5. So, make sure the image is not too tall. For example, an image that is 600px wide should be between 900px and 2100px height.
Also, you need to pay attention to your composition. Do not use more than four separate images in a Pin. Image should have a focus or a clear theme, not just an assortment of random images of your products. Adding too many images in one Pin only creates confusion when people look at it.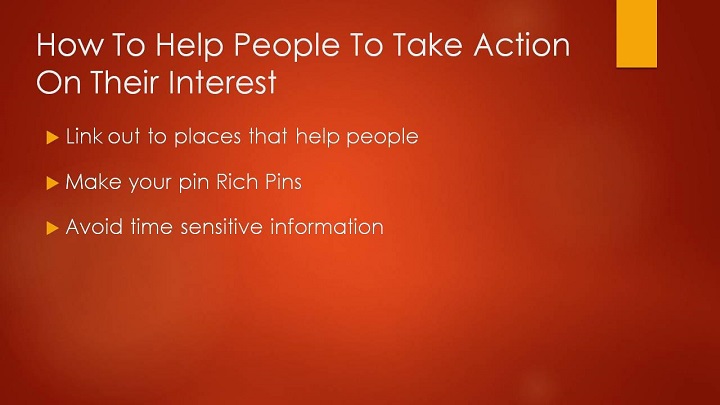 Helping people to take action on their interest that is in line with your business can sometimes be a challenge however there are 3 simple steps which you can take to persuade and influence your target audience to take action.
The first would be a link out of your Pin to places or websites that helps people. For example, a recipe Pin should lead to the real cooking instruction and a product Pin should lead to where a Pinner can make the purchase.
All of these of course would be kept within the context of growing your business. So if you run a restaurant for example, you would want the link out of the pin to lead to your restaurant. You could also consider having a cross promotion with another business nearby that would complement and add value to your product as well.
For example, a bookstore could do a cross promotion with a nearby coffee shop. Coffee and books go well together especially when there is good coffee. Viewers that come from Pinterest to respective businesses can read and enjoy a cup of coffee at a discounted price.
The second is to make your Pin a Rich Pin when possible. Rich Pins have extra details like price, availability or ingredient right on the Pin so people can do more with their Pins.
This would help your audience make decisions faster and qualify your customers easier. You would want to tend to people who are your customers instead of spending resources, energy and time dealing with people who are not going to buy from you. Am I right?
The last thing is to avoid time-sensitive information. Pins last forever, so steer clear of including words like "new" that will not always be relevant. For example, you should not write this in your description: This weekend only: Buy one Oxford and get the second one for half price.
Here are two recommended apps to design and beautify your images. The first one is "Pixlr". It is a free photo editing app that comes with tons of features and effect. You are able to edit your photo like a pro and add awesome effects to create stunning images.
Next would be "PIP Camera". It provides beautiful magazine-like templates that are appealing and eye-catching. Also, PIP Camera provides beautiful collage templates too, making editing multiple images into a collage an easy task.
In summary, your pins need to grab attention through quality design and good copy. This is because Pinterest is image driven and I recommend investing a little bit more time and resource in creating a beautiful image. The thing is that if it doesn't cut across the noise of all the thousands and thousands of pins on Pinterest, it would not get noticed and clicked by readers which would then result in a potential loss of leads and sales.
Watch Video

In the next blog post we will be covering How To Optimize Your Pins For Greater Exposure
Until next time.
Moni Arora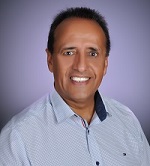 Moni Arora's Blog
Facebook
Linkedin
Twitter
Email Me
P.S. If you found value in this blog post please LIKE, COMMENT and SHARE with someone who can benefit from this.
P.P.S. If you are still looking for a profitable home business and would like to be mentored by me Click Work With Moni