In this blog post we will go through how to optimize your Pins for greater exposure.
In this post I will be discussing three main things, which are:
The art of the Pin

How to put your Pin to work

Understanding Pinterest analytics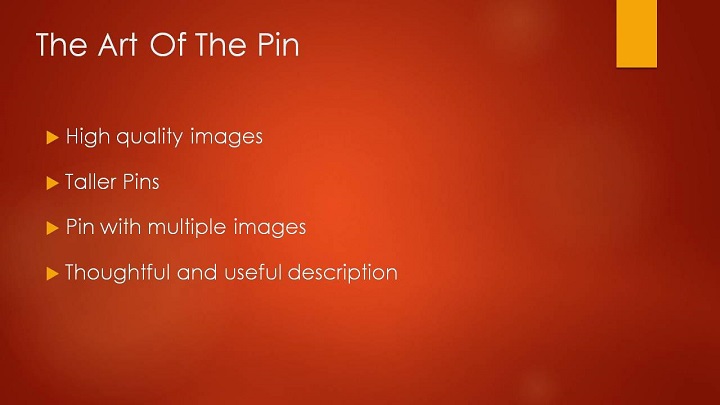 First of all, you need to know the art of the Pin. Use high quality images and make sure they are nicely composed and in focus. It is best to go for taller Pins. This is because vertical Pins look better on mobile and are much easier to read.
Next is to have Pins with multiple high quality images. This is because it works well for Pinners looking for information such as "how-tos". Keep it to maximum 4 images so it doesn't look too crowded. Also, you need to make sure your Pin is easy to read on mobile screens, which is why minimizing the amount of text on an image, the size and style of the text are important.
Every Pin should have a description that informs. The best descriptions are the ones that are positive and help people to imagine what they might do with the Pin while also providing value adding information. Write thoughtful and timeless copy. Because Pins last forever, so you need to avoid description that has timed promotional information.
To encourage more pinning, you must make it easy to pin from your website and emails. This is because the more people pin or repin your content, the more discoverable it becomes. You can also cross promote your Pinterest account on Facebook or Twitter to gain more exposure.
Lots of businesses highlight their most popular Pins in physical stores. You can also include the "Pin It" button in your emails to make it easy for people to add their interested Pins straight from there.
Pinterest analytics shows you which Pins are most popular with Pinners and which ones are driving the most traffic to your site.
You can also see on which board your pin appears on, how the Pins are described and what people Pin along with your stuff. All of these insights are important as it will help you to make smarter choices about your merchandising, product development and marketing strategy.
At the top of each analytics page there is a graph that lets you see:
How things are trending over time

Changes to your Pinning strategy or website that will affect your Pinterest activity

Seasonal trends that map to the activity on your profile
You are able to change your view by filter and sort your analytics to get a more detailed look. Use the date picker to see the data for a specific time period. You can also sort your analytics by impressions, repins, clicks and all-time.
Plus, you are able to use the all-apps menu to see analytics for different devices. Export data to look at trends and ratios between impression, repins and clicks. For example, it may help to see why a higher percentage of people are clicking one Pin over another. In order to save your data as a .csv file, click "export data" at the top of the page.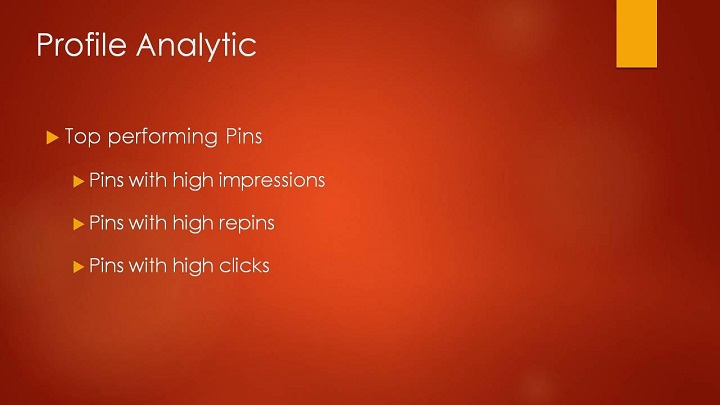 Profile analytics gives you a look at the Pins' condition from your profile. And it is best to switch between views in order to see the Pins with the most impressions, repins and clicks.
You can see your top performing Pins from your profile analytics. First one would be Pins with high impressions, which means that people are actively looking for that particular content. You should continue adding similar Pins to reach more prospects on Pinterest.
Next are Pins with high repins, which indicates that the content is interesting enough to share and save. In this case, pinning similar content from your website or from other relevant sources to keep inspiring your audience is highly recommended.
Pins with high clicks means that people want to know more about, take action or buy that content. Add Pins for similar things from your website to boost more referral traffic from Pinterest to your site.
The all-time report is based on all data Pinterest has from the beginning of your account. This includes an assortment of metrics and the first one would be your all-time most repined Pins. This will help you understand the content that your follower is most interested in sharing and saving.
The second one would be best in search. These are highly ranked Pins in search. You are able to improve the search quality rankings of your Pins by writing clear and quality descriptions, using Rich Pins to categorize your Pins and making sure your entire Pins link to useful websites.
The last one is Power Pins. These are all-time high engagement Pins, which is a combination of likes, comments and sends. It helps you understand which of your Pins have the most interaction of all the time, which you can use to boost the value of your content.
Watch Video

In the next blog post I will discuss How To Get Targeted Followers On Pinterest 
Until next time.
Moni Arora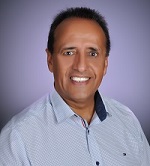 Moni Arora's Blog
Facebook
Linkedin
Twitter
Email Me
P.S. If you found value in this blog post please LIKE, COMMENT and SHARE with someone who can benefit from this.
P.P.S. If you are still looking for a profitable home business and would like to be mentored by me Click Work With Moni