In this blog post I will be discussing how to use Pinterest to grow your business.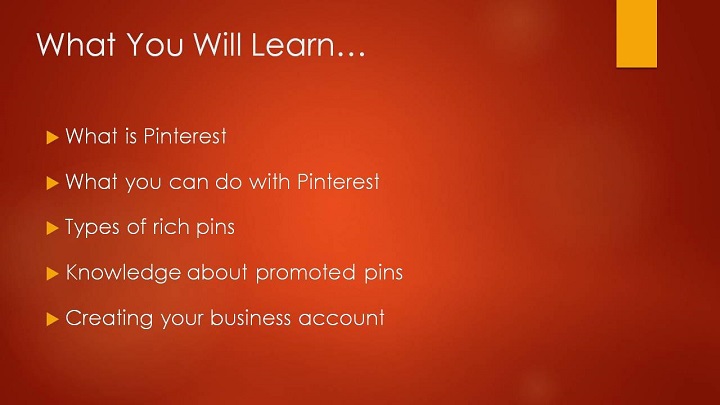 In this post I will go through five main things, which are:
What is Pinterest

What you can do with Pinterest

Types of rich pins

Knowledge about promoted pins

How to create your business account
Social networks like Facebook and Twitter are often the go-tos for businesses and brands. Many companies will also benefit from the visual aspects of a platform like Pinterest.
A Pin is an image or video that people add to Pinterest. People add Pins directly from websites or apps using the "Pin It" button. Any Pin can be re-pinned and all Pins link back to their sources, which is how you can get referral traffic.
Also, people organize Pins into collections called boards and share their boards with others. The same Pin might be added to lots of different boards across lots of interests, making boards a great place to discover new stuff.
People can follow all of someone's boards or just the ones they like best. As they discover and follow more Pinners and boards, their feed becomes more relevant and personal to their interests.
So, how is Pinterest able to help your business grow? There are three main things Pinterest can do for you, the first one would be to drive traffic to your website. All Pins that you find on Pinterest will link back to their original websites when you click on them.
Next, is to create engagement with "Pinners".
You can create engagement with a beautiful Pin, useful description and also be an active "Pinner" yourself. Holding a Pinterest contest is also a good way to create marketing engagement for your brand.
The last one would be to do an indirect sales to urge people to click on your Pin. Why indirect? This is because you are not allowed to put an actual call to action button on your Pin. If you do so, your Pin will not get approved.
Besides normal Pins, Pinterest also offers a feature named Rich Pins for you to categorize your Pins. Rich Pins are a special type of Pinterest that is more straightforward and informative. It includes detailed information rather than just plain images.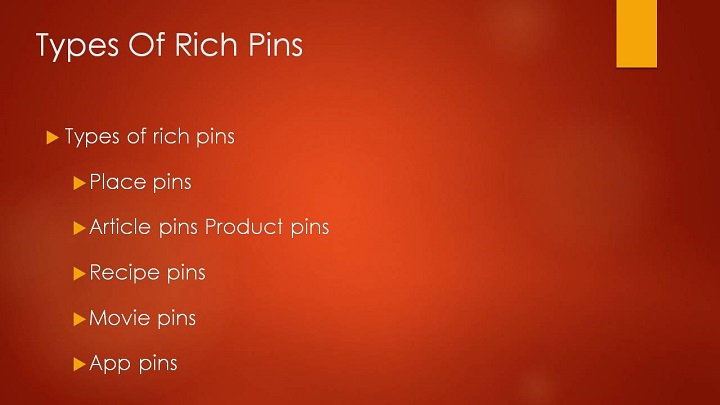 There are 6 types of Rich Pins that you can found on Pinterest, which are:
Place pins

Article pins

Product pins

Recipe pins

Movie pins

App pins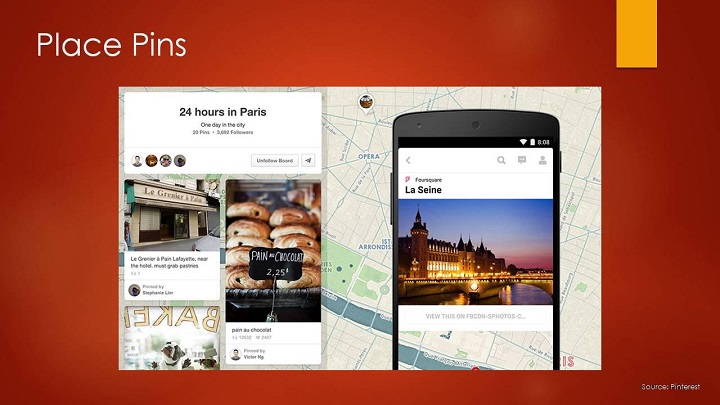 Place pin allows you to create a map with the content you share. In order to enable place pins, all you need to do is check off the "add a map" option when you create or edit a pin-board.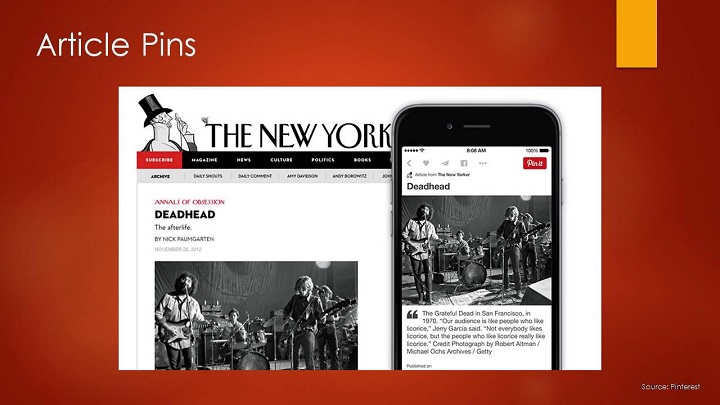 An article pin is very useful because Pinners can automatically see the article's headline, author and a story description. It makes it more searchable and distinguishable from other content on the platform.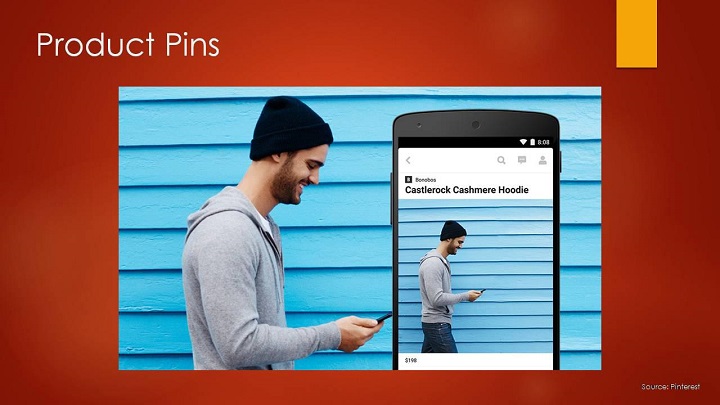 Next up, a product pin shows where the product you are pinning can be purchased, the current price and a direct link to the product page or website. Plus, product pin's prices' are constantly updated.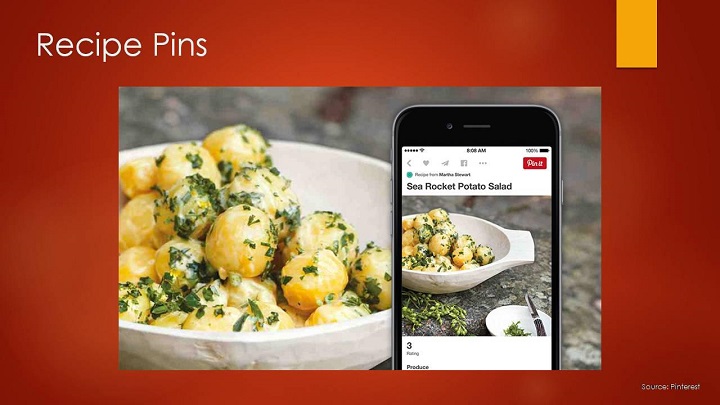 In Pinterest, you can find any recipe that you can imagine on the site and recipe pins take sharing food on Pinterest to a whole new level. Unlike regular pin, recipe pin shows Pinners important information such as specific ingredients, cooking duration and serving info.
Movie pins help the Pinterest community to learn more about new and upcoming movies. It also includes the essential information about the movie such as ratings, cast members, and reviews. Think of it as an online movie directory which can save information on your favourite movies, categorized and organised and share them with the community.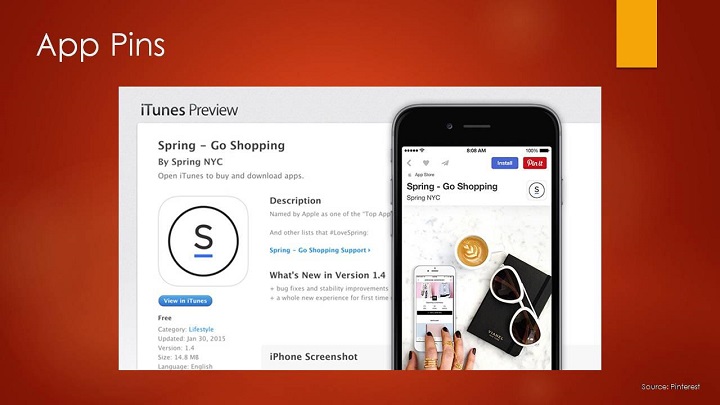 App pins help the Pinterest community to discover more relevant apps and it can be done without ever leaving Pinterest through the App Pin. It is similar to the rest of the pins and the only thing is that it helps to pin apps. This is available for iOS in the US.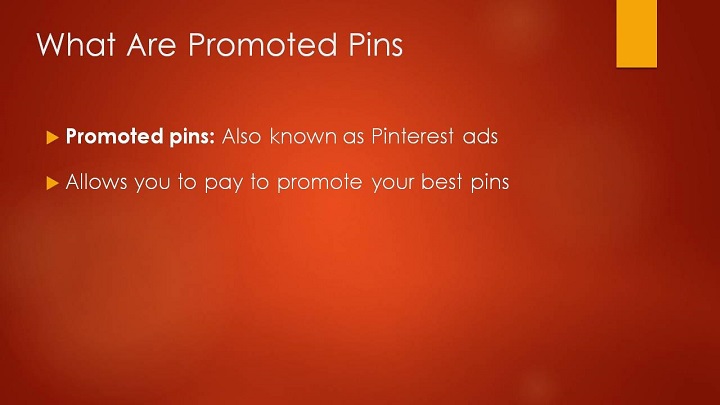 You can also advertise on Pinterest using a Promoted Pin. It functions like a paid ad and you can advertise to your audience by location, demographics, devices and even interest. It runs on cost-per-click basis and I will cover more on this in my later blog posts.
Depending on what business you are in, the strategy which you can use is to organize your marketing collateral of your brands to create a pin that can be easily shared across social media. Your marketing collateral of course, covers things like articles, infographics, products, services and images, just to name a few.
When you've finished "pinning" them, promote it to your target audience and watch them get consumed and shared by your audiences.
And now, we have come to creating your business account. All you need to do is just 3 simple steps and you can have your own brand and business.
Step 1, click on the businesses button at the very bottom of the page…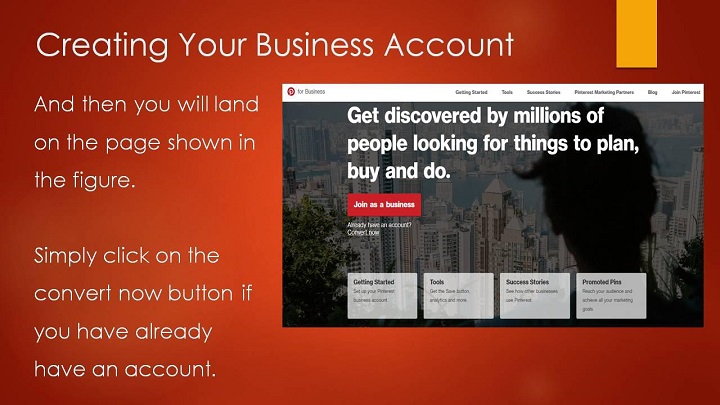 …and then you will be directed to the page shown here. Click on the convert now button if you already have an account.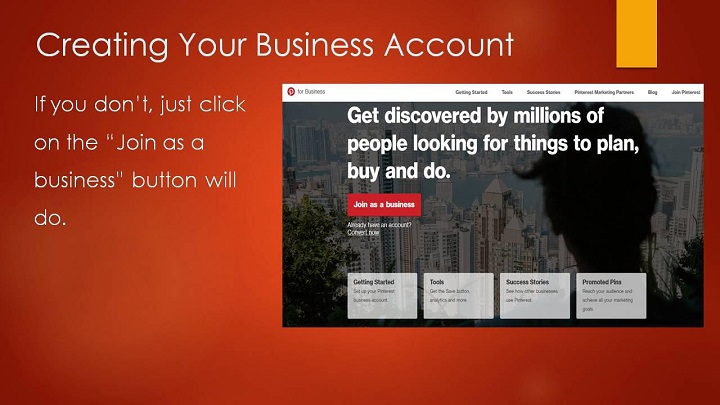 If you don't, just click on the "Join as a business" button.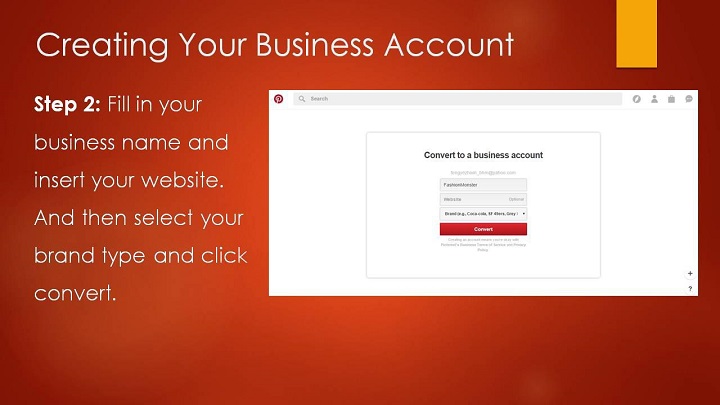 Step 2, you will reach a page where you are required to fill in your business name, insert your website and also select your brand name.
After you have filled out the form, click on the convert button to proceed.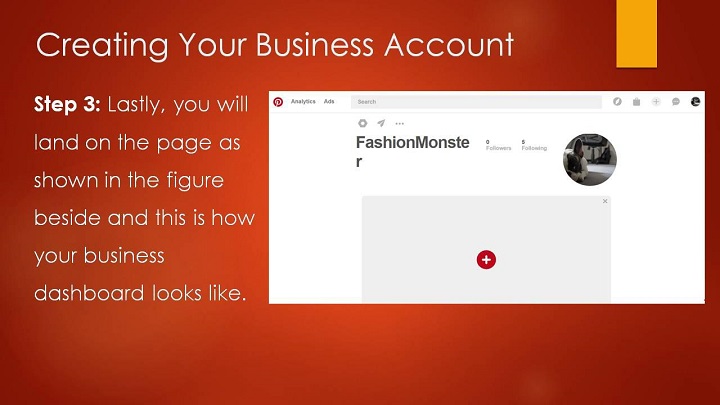 Lastly, you will land on the page as shown in the figure. And this is how your business dashboard looks like.
We've reached the end of the first part in building and expanding your business on Pinterest. In summary, there are multiple things which you can do on Pinterest to grow awareness and create engagement with your brand. The main aim is to create a pin board that has value, captures interest and has viral capabilities which would persuade and motivate your target audience to share with their friends, I will cover more on this in our other blog posts.
Watch Video

In the next blog post I will be discussing How To Create Great Pins on Pinterest
Until next time.
Moni Arora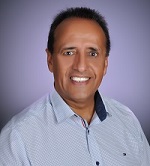 Moni Arora's Blog
Facebook
Linkedin
Twitter
Email Me
P.S. If you found value in this blog post please LIKE, COMMENT and SHARE with someone who can benefit from this.
P.P.S. If you are still looking for a profitable home business and would like to be mentored by me Click Work With Moni