In this blog post I will cover tactics of organizing a Pinterest contest. You would want to integrate this into your marketing plans because this is where you will be in a position to generate more leads, raise brand awareness and increase potential sales.
There are 2 main things you are going to learn in this blog post, which are:
The tactics of organizing a contest on Pinterest

Using tools to manage your contest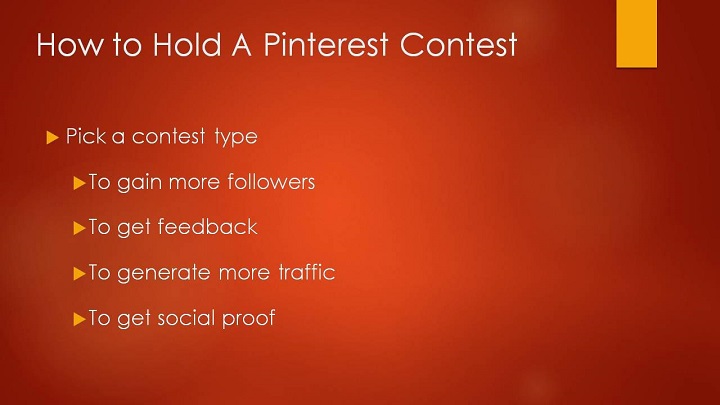 Creating an engaging Pinterest contest is an effective way to reach out to your audiences. This is because a contest creates engagement, free mentions and referrals about your brand which will add to increasing your brand building effort and awareness.
Here are 6 tactics to deploy in organizing a successful Pinterest contest.
The first tactic is to pick a contest type. There are many types of contests you can have on Pinterest and you must choose the one that matches your goal.
If you want to gain more followers, hold a contest that asks people to follow you and share your Pin in order to enter the contest. If your goal is to get feedback on your upcoming product line, create a board with your product and ask participants to leave a comment.
In order to generate more traffic to your site, you must ask the participants to create a board, name it with your brand name and pin their favorite product from your website.
Next, if you want to get social proof, simply create a board that allows contributors and ask your followers to upload photo of them using your product as a testimonial. This instant credibility is the key in getting new customers.
If you want people to enter your contest, it needs to be easy for them to enter. Just like a three step Facebook contest, where all they need to do is like, share and comment. Same goes with Pinterest, ask your audiences to like, re-pin and comment.
Next is to make your contest visually appealing. Upload a beautiful image together with clear instructions text overlay on how to enter the contest. And of course, you need to make sure your prize is attractive enough!
Keep the needs and wants of your target audience in mind when you are developing the prize for your contest. The more appealing it is to your followers, the more participation you will get. In most cases, it's a cash prize, a product offer or a combination.
Last but not least, when you run a contest on Pinterest, make sure you cross promote it on other social media platforms. You can post it to your Facebook fan-page, tweet it through Twitter or post an article about it.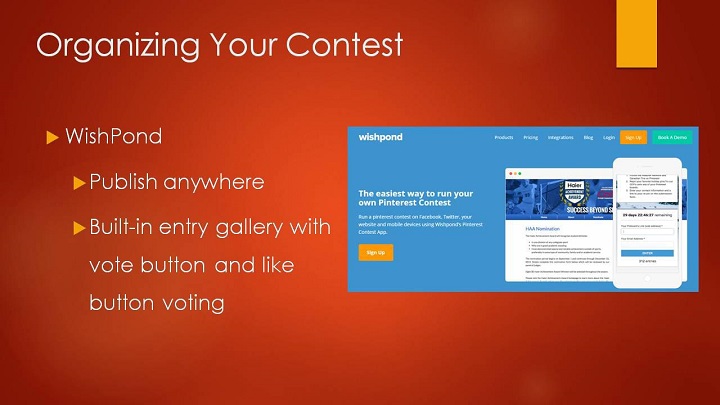 Next up, I will be introducing an essential tool to manage and organize your Pinterest contest.
"Wishpond" is a third party contest app that sets up your social contests and gets your contests ready for mobile. You can create a Pinterest contest within minutes and the contest app makes it easy to create your contest with your own branding, colors and voting gallery.
Also, you are able to publish the contest anywhere. For example, you can run Pinterest contests on Facebook, Twitter or your website, having it work perfectly on desktop, tablet and mobile devices.
Wishpond also displays contestant's Pinterest board in a gallery where users are able to vote and share their favorite Pins, which includes options for email-confirmation voting or like-button voting.
The possibilities are endless and with new third party apps being developed every other month or so, you have a lot of options to choose from.
In my earlier posts I spoke about brand building and keeping things consistent within your business niche. The same applies here and your contest would need to be consistent with your brand values and core identity.
Here's a bonus tactic, keep an eye out on potential cross promotions during special events, holiday seasons and other non-competing brands that you can ride and leverage. You'll be amazed at what sort of opportunities there are out there.
Watch Video

In the next blog post I will be covering How To Advertise On Pinterest 
Until next time.
Moni Arora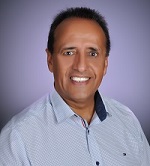 Moni Arora's Blog
Facebook
Linkedin
Twitter
Email Me
P.S. If you found value in this blog post please LIKE, COMMENT and SHARE with someone who can benefit from this.
P.P.S. If you are still looking for a profitable home business and would like to be mentored by me Click Work With Moni
Featured Services To Boost Your Business

Are You A Network
Marketer?
Free 10-Day Online Recruiting Course Shows You How to Recruit – Rejection Free!
Click Here To Learn More!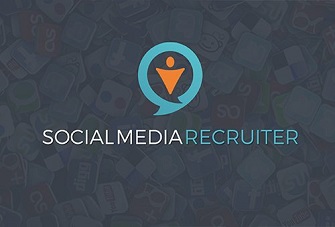 Learn How To Recruit
Using Social Media!
Create A Massive Recruiting Surge In Your Business With Social Media…
Click Here To Learn More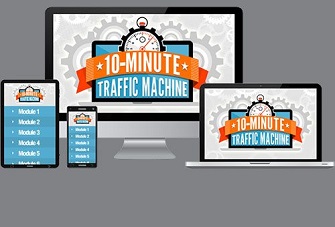 Do You Want More 
Traffic & Leads?
Discover the Simple Method We Used to Produce a 1348% ROI on Our Advertising.
Click Here To Learn More!